Worship Service
Sunday Service: Worship with us every Sunday at 10:30 a.m in person or online on Zoom, followed by Coffee Hour on Zoom only. The service will also be available online to be watched later on for those who are not able to attend at 10:30 AM.
Zoom Service Link:
https://zoom.us/j/98243487606?pwd=WmxDbTR2a3JrMk4zT05lQzkwb3B6Zz09
Meeting ID: 982 4348 7606
Passcode: 105035
If you have any questions, please email Pradeep at pgade@trinitystpauls.ca
Subscribe to the TSPList mailing list for the link and password (or ask someone who knows).
COVID-19 Protocols: everyone attending worship in-person must sign in upon arrival for contact tracing. You must sanitize your hands and wear a mask at all times while inside, and maintain 2 meters social distance from others not in your immediate household. Singing unfortunately will not be permitted, but we encourage you to hum along 🙂 Once the service is finished, we ask you to please not congregate inside, but move outdoors to continue your conversation. Coffee hour will be available on Zoom afterwards.
Message from TSP Board
July 27, 2021
Dear TSP community, neighbours, and friends, I hope this note finds you well, and having a restful and rejuvenating summer. With Ontario well into Step Three of its reopening plan and September just around the corner, I wanted to provide an update on our plans for Sunday services at TSP. During August, and on September 5th, we will continue to worship on Zoom. As we have done for decades, we will welcome our friends from Bloor Street to worship with us for August. September 12th will be a Welcome Back Sunday like no other. I'm excited to say that we intend to resume in-person services that Sunday! What should I expect when I come to worship? When you arrive, you will be asked to provide your contact information for contact tracing purposes. Seating in the sanctuary will not be pre-assigned. Rather, you will find clusters of seats marked as available. One, two, three, and four seats will be clustered together. Please find a cluster of seats that matches the size of your household/bubble. If you are able, please try to sit in the balcony to allow more room on the main floor for those with mobility issues. Please also remember that clusters have been spaced apart to maintain social distancing. Your mask must be worn at all times during the service. Although our wonderful soloists will provide musical leadership, there will be no congregational singing for the foreseeable future. If you wish, soft humming under your mask will be permitted. After the service, please exit the building. Coffee Hour will remain online, at 2pm Sunday afternoons. What if I am unable to come to worship or don't feel ready? I'm thrilled to say that a long-standing goal of ours is being achieved.We are in the process of purchasing the equipment necessary to be able to live-stream our services online. I anticipate live-streaming will begin in the early fall. I'm truly looking forward to seeing you on September 12th. Please don't hesitate to email me at chair@trinitystpauls.ca if you have any questions. Blessings, Colin Phillips Chair of the Church Board
In This Time of COVID-19, TSP's Ministry Continues
Rev. Dr. Cheri DiNovo, C.M.
Minister
1971
Only woman to sign We Demand, first gay rights demo in Canada. Marched in Toronto's first Pride.
2001
Performed the first legalized same-sex marriage in Canada
2006
Elected MPP - passed most private bills in Ontario's history and most LGBTQ bills in Canadian history
2019
Appointed to the Order of Canada
2020
Minister at Trinity-St. Paul's United Church and Centre for Faith, Justice and the Arts
Climate Justice Resources
Trinity St. Paul's United Church's journey of divestment of our congregational funds from fossil fuels, and subsequent reinvestment in Alternative Energy
The Latest
What's new in the life of the church
"He will lift you up on angels' wings"
I discovered that angels are very real and they are the people who have known and supported me at TSP through the dark days at St. Michael's Hospital, in my recovering days at Bridgepoint and in the visits I've had since I came home.
The matter of the Prayer List has been for me always somewhat of a hollow part of the Sunday service because for the names on the list we never knew whether they were dead, dying or improving, born or married, and so we really did not know what we were praying for. I think the idea could be upgraded when we get back to normal service by a few notes in the bulletin that explain the situation we are praying for. I will add a bit of humour because I have not ever encouraged putting my name in the Prayer List. Some years back, after my being in the hospital for 10 days, Karen and Hal found out I was in the hospital and came to see me after service, complaining about the fact that I had not asked to be on the Prayer List. With usual Middleton incisive rapport I said, "Well, if it didn't work it would be bad for your business."
This note should contain my feelings toward the pastoral care I received from Cheri. On my darkest days she appeared regularly in my room to shepherd me into choosing to live and for this I am grateful. Also, Colin offered messages of hope for my continued participation in my pink world.
I would add that I had a nice call from the Wednesday Prayer Group indicating that I had been included. I further add on the issue of prayer, a quotation that I often repeat to myself: "Prayer is the soul's sincere desire, uttered or unexpressed; it is the motion of the hidden fire that trembles in your breast"
I would take a moment to say for those of us who are not out socializing that a telephone call is very important. I find it difficult to call out because I have to have Filomeno dial the call. But perhaps to give you another laugh, on a really bad day I may only get a call from a scammer and I have found a way to entertain myself but not them. If it's a man I ask them how old they are, if they are good-looking and whether I am to meet them at the subway station as the sex partner I had ordered. This usually terminates the conversation with a scammer.
The personal care I have received form Filomeno has sustained me in my home but we both look forward to when I can take sweets to church.
"I know not what the future holds of marvel or surprise; I only know I cannot drift beyond the love and care of TSP."
This message was made possible by the secretarial and social support of Carol Gallagher.
It has been a challenge. I coach women to claim their power in their relationships so that they can communicate their needs clearly and confidently, avoid conflict and have the love they deserve.
I had expected to speak on stages or in one-on-one meetings to talk about the problem of control and loss of power in relationships, how devastating that can be to a woman, and the long-term damage it causes. I was in the process of sending out material to book speaking engagements when Covid-19 upended it all.
The subsequent lockdown meant that I have had to pivot to interacting exclusively online, which meant quickly beefing up my online visibility. Visibility is what gets you in peoples' faces, getting your message across and being relatable and vulnerable, so that people are comfortable enough to want to work with you.
That means spending a lot of time on social media. I chose Facebook, because it is most commonly used by more people, than Instagram, which is another new thing to learn, or LinkedIn, which focuses mainly on business. I have to be honest and say that I was not previously a fan of Facebook and I am not enamoured with it now, but it is the best way for me to get my message across.
I started a private Facebook page so that woman could have a safe place to discuss their concerns about challenges in their relationships and in order to make the group work and attract people to it, I have had to nurture it daily. I decided to set up a routine: Monday, I ask a question; Tuesday I post a short video on a related topic (I have included one at the bottom of the article); Wednesday, I interview someone or post a You Tube video on the topic; Thursday another video; Friday, a profile of a powerful woman; Saturday, something inspirational. That is a lot of work, particularly the videos. I think of a topic, write the narrative, record two at a time – I have to put makeup on (LOL) – and then I have them ready for Tuesday and Thursday. The profiles take a lot of research, but I believe it is important to showcase women like, Rosa Parks, Katharine Graham, Grace Hopper and Viola Desmond, who triumphed against all odds.
One of the challenges is stepping out of my comfort zone which I have no choice but to do. Learning new technology, like Zoom to hold a conference and present a webinar; Streamyard to be able to make Live Facebook presentations; Stripe to collect money; and those are just three. It seems as if I have to learn new technology every week. It is exhausting. I expect there will come a time when I am able to hire someone to do the technical stuff but for now, it is all up to me. The isolation is also a challenge and after a while, it is easy for the brain to check out during yet another Zoom call with people whose faces you know only from being on Zoom.
However, I am grateful that I live in Canada, I am healthy, and I am surrounded by people who are also healthy. I also see this as a time for all of us to reset and learn new ways of being and doing things. It will be up to the collective will of all of us to wake up and to create a new world. Ecclesiastes chapter 3 tells us, "There is a time for everything, and a season for every activity under the heavens," and verse 3 tell us that there is "a time to tear down and a time to build." This is the time for us to build a new world where everyone is respected and treated with dignity and respect, no matter who they are.
Bronze Foundation Academy
Spring 2020 Virtual Choir Project
Bronze Foundation Academy (BFA) is a community based, twelve member handbell choir with membership across the GTA: Mississauga, Toronto, Pickering, Markham, Nobleton. It is a gently auditioned handbell choir with most members providing music leadership within their home churches. J.C. Coolen leads this lively group of bell ringers. You may remember him if you attended one of the Hands on the Handbells Workshops sponsored by TSP last year.
This virtual choir project sprang into production last March when COVID19 struck. Suddenly the practices went online without the playing of bells. Concerts were cancelled. Strategies for the possible development of strengths, and technical knowledge within the group were discussed. Logistics regarding the location and accessibility of handbells and handchimes were sought.
Once each member received their musical allocation, each was tasked with recording the assigned allocation(s), in their own home, with their own equipment.  This was definitely a stretch for most of us.  My living room became a recording studio and stayed that way until all the takes were accepted.  Then it was time for the technicians to make it all fit together.  This process was hugely time consuming and extremely involved.  The final product of this collaboration is this YOUTUBE Video – Bronze Foundation Academy; Spring 2020 Virtual Choir Project Michael Mazzatenta, Larghetto in D Minor.  I hope you enjoy the viewing.  Ann Rowland
Hi Everyone,
I miss you all terribly and have been trying to stay busy so as not to go completely insane while I live on my own. Without a job or a cottage to visit or a backyard to sit in, I have been walking into High Park every morning, only a 10-minute walk from me. Thank you God for that park! It is beautiful and fresh and full of people like me who are receiving all the gifts nature can provide. I have completed many sketches there.
Back in my apartment, I have been doing some virtual singing with the Church of the Redeemer choir. https://www.youtube.com/watch?v=VyR0nteK06g. Maybe our church choir could go virtual.
In addition, I have read many breathtakingly marvelous books lately:
'Becoming' by Michelle Obama;
'The Splendid and the Vile' by Eric Larson, about Winston Churchill's first year in power during the Blitz of London, England;
'The Mirror and the Light' by Hillary Mantel;
'My Dark Vanessa' by Kate Elizabeth Russell; and
'Trumpocalypse' by David Frum
Next on my list are:
'The Skin We're In' by Desmond Cole; and
'The Vanishing Half' by Brit Bennett.
Finally, I have been teaching myself to paint thanks to two incredible international artists who offer online courses:
'Will Kemp Art School.' He lives in England and teaches acrylics.
'My Painting Club' by Richard Robertson. He lives in New Zealand and teaches oils.
The painting of the orange slices on a blue plate are from Will Kemp's painting blog.
All my love,
Sandi Hill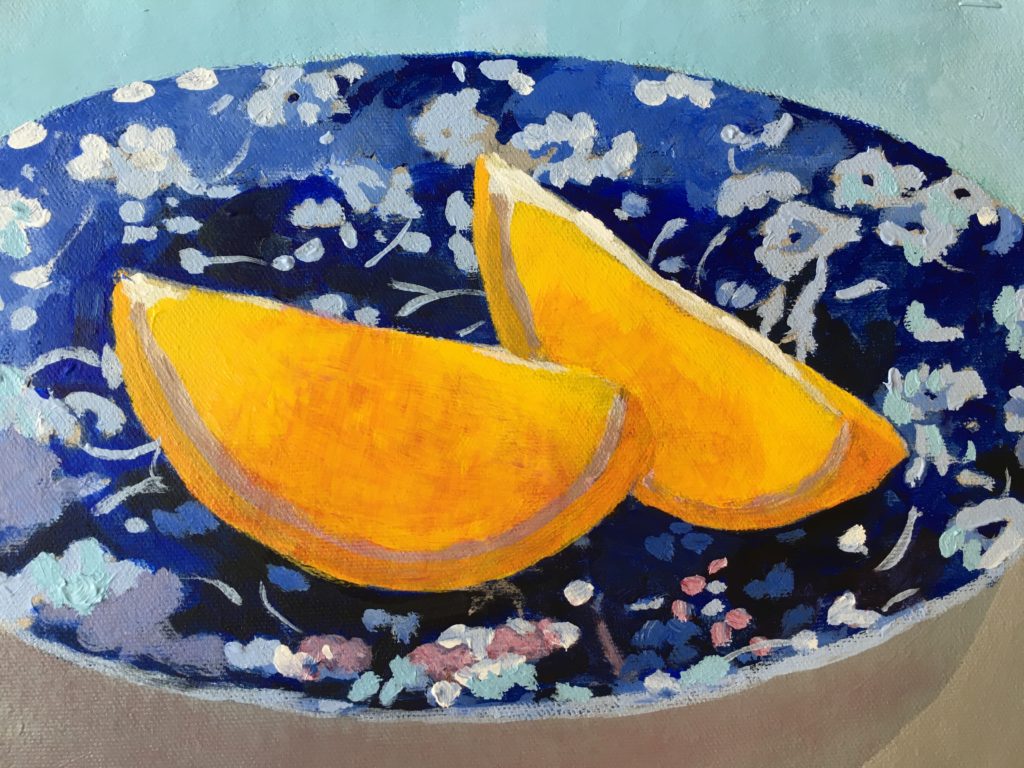 RE-VO's Karaoke Classics (2020) is a gift of love to his family and friends. RKC 2020 features twenty-two songs performed live to multi-track by Mac Reeves (in his basement under CO-VID lockdown), and post-mixed/equalized to ensure balance. Throughout this video album, Mac showcases many vocal tones, often performing in the "style" of a particular singer yet still maintaining his "true" voice, a technique he calls 'hybrid-vocals' (eg. part Neil/part Mac). On other songs, we hear Mac doing his own unique "covers" of classic or contemporary songs (ie. "Don't You Forget About Me," "Nothing Breaks Like A Heart" or "Someone You Loved.")
The songs use sophisticated Karaoke tracks developed by professional musicians from around the world, and then, in RE-VO's home studios, these Karaoke tracks are enhanced/reinforced by RE-VO's own performances (eg. drums, bass, guitars, keyboards and background vocals) and additional production layers. RE-VO searched the Web far and wide for the best of the best, and these talented artists are first in their class, the wind beneath Mac's vocal wings on these basement sessions.
View the full playlist here!
Hours of Operation
Front Office
Monday - Saturday

9:00 AM - 11:00 PM

Sunday

9:00 AM - 10:00 PM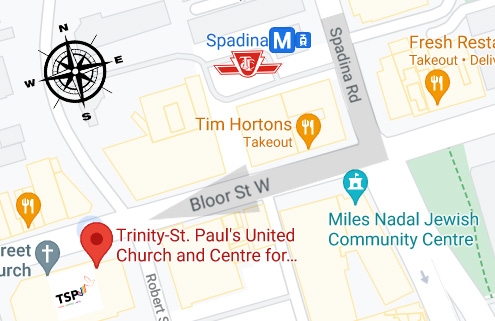 How to Get Here - Trinity-St.Paul's is accessible by public transit. The nearest TTC station is Spadina Station, located just north of the intersection of Spadina and Bloor. For a full accessibility exit from the subway station, use the Spadina Street exit. Head south to Bloor street, then turn right and head west to the next intersection at Robert Street. TSP is located at the southwest corner of Bloor Street and Robert Street. For accessible entry use the main entrance on Bloor Street on the north side of the building.
Accessibility - TSP is fully accessible on the main floor, including access to the main door, Sanctuary (Jeanne Lamon Hall), gymnasium, Circle Room, Memorial Room, Chapel, Studio and washroom. Trinity-St. Paul's also owns a wheelchair for use within the building. Staff are available to assist you when needed; please just inform us and we are happy to help.
Service Animals and Support Persons - Service animals are welcome in all parts of our premises that are open to the public. Special seating is also available in the Sanctuary (Jeanne Lamon Hall) for people with disabilities arriving with a service animal or a personal support worker.
Parking - Paid parking, including accessible parking, is available across the street on Robert Street at the Green P lot on the south side of the Metro grocery store.
Training for Staff - TSP provides training to all staff as well as volunteers, including an overview of the Accessibility for Ontarians with Disabilities Act, 2005 and the requirements of the customer service standard's plan.