Worship Service
Sunday Service: Worship with us every Sunday at 10:30 a.m in person or online on Zoom, followed by Coffee Hour on Zoom only. The service will also be available online to be watched later on for those who are not able to attend at 10:30 AM.
Zoom Service Link:
https://zoom.us/j/98243487606?pwd=WmxDbTR2a3JrMk4zT05lQzkwb3B6Zz09
Meeting ID: 982 4348 7606
Passcode: 105035
If you have any questions, please email Pradeep at pgade@trinitystpauls.ca
Subscribe to the TSPList mailing list for the link and password (or ask someone who knows).
COVID-19 Protocols: everyone attending worship in-person must sign in upon arrival for contact tracing. You must sanitize your hands and wear a mask at all times while inside, and maintain 2 meters social distance from others not in your immediate household. Singing unfortunately will not be permitted, but we encourage you to hum along 🙂 Once the service is finished, we ask you to please not congregate inside, but move outdoors to continue your conversation. Coffee hour will be available on Zoom afterwards.
Message from TSP Board
July 27, 2021
Dear TSP community, neighbours, and friends, I hope this note finds you well, and having a restful and rejuvenating summer. With Ontario well into Step Three of its reopening plan and September just around the corner, I wanted to provide an update on our plans for Sunday services at TSP. During August, and on September 5th, we will continue to worship on Zoom. As we have done for decades, we will welcome our friends from Bloor Street to worship with us for August. September 12th will be a Welcome Back Sunday like no other. I'm excited to say that we intend to resume in-person services that Sunday! What should I expect when I come to worship? When you arrive, you will be asked to provide your contact information for contact tracing purposes. Seating in the sanctuary will not be pre-assigned. Rather, you will find clusters of seats marked as available. One, two, three, and four seats will be clustered together. Please find a cluster of seats that matches the size of your household/bubble. If you are able, please try to sit in the balcony to allow more room on the main floor for those with mobility issues. Please also remember that clusters have been spaced apart to maintain social distancing. Your mask must be worn at all times during the service. Although our wonderful soloists will provide musical leadership, there will be no congregational singing for the foreseeable future. If you wish, soft humming under your mask will be permitted. After the service, please exit the building. Coffee Hour will remain online, at 2pm Sunday afternoons. What if I am unable to come to worship or don't feel ready? I'm thrilled to say that a long-standing goal of ours is being achieved.We are in the process of purchasing the equipment necessary to be able to live-stream our services online. I anticipate live-streaming will begin in the early fall. I'm truly looking forward to seeing you on September 12th. Please don't hesitate to email me at chair@trinitystpauls.ca if you have any questions. Blessings, Colin Phillips Chair of the Church Board
In This Time of COVID-19, TSP's Ministry Continues
Rev. Dr. Cheri DiNovo, C.M.
Minister
1971
Only woman to sign We Demand, first gay rights demo in Canada. Marched in Toronto's first Pride.
2001
Performed the first legalized same-sex marriage in Canada
2006
Elected MPP - passed most private bills in Ontario's history and most LGBTQ bills in Canadian history
2019
Appointed to the Order of Canada
2020
Minister at Trinity-St. Paul's United Church and Centre for Faith, Justice and the Arts
Climate Justice Resources
Trinity St. Paul's United Church's journey of divestment of our congregational funds from fossil fuels, and subsequent reinvestment in Alternative Energy
The Latest
What's new in the life of the church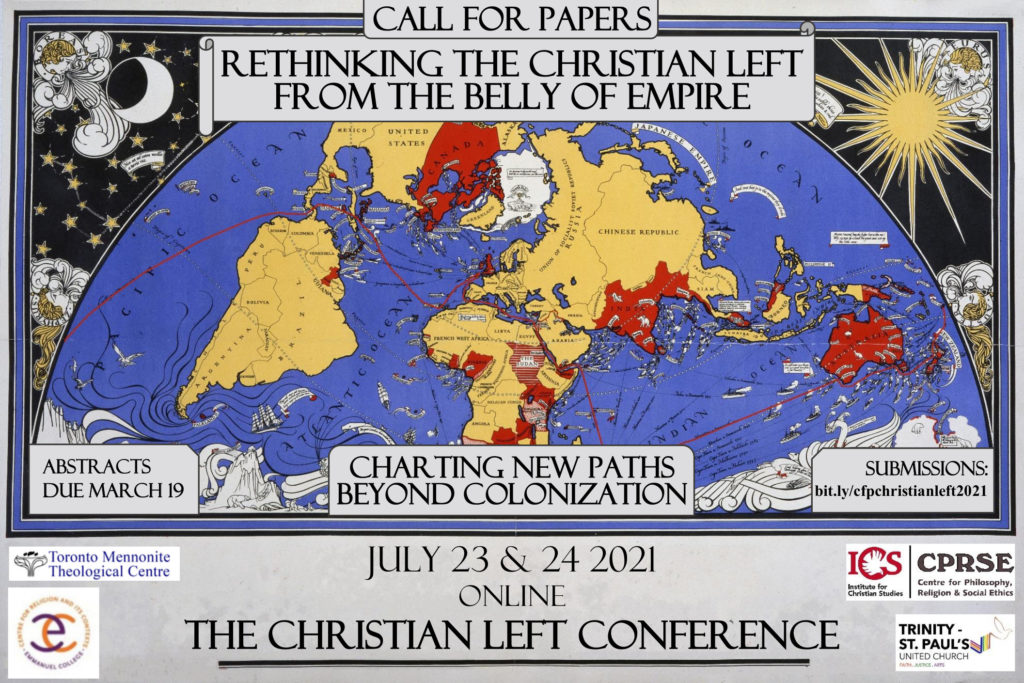 Emmanuel College's Centre for Religion and Its Contexts, Trinity St. Paul's United Church, the Centre for Philosophy, Religion and Social Ethics of The Institute for Christian Studies and the Toronto Mennonite Theological Centre are hosting the second Christian Left Conference (free and online) July 23-24, 2021. The theme is "Rethinking the Christian Left from the Belly of Empire: Charting New Paths Beyond Colonization." Proposals are due March 19, 2021 and can be submitted online here: https://bit.ly/cfpchristianleft2021. Conference FocusWhat does it mean to speak of a Christian Left? Who is included under the label the Christian Left? In the last decades, the Christian left has been undergoing enormous reconfiguration: new actors, issues and concerns have uncovered the colonial underbelly of the Christian Left. From the Suffrage movements through to the Social Gospel, and continuing through liberation theologies and political theologies to today, these reconfigurations have included an emergence of different approaches to reading the Bible, the articulation of alternative approaches to theology and ethics, and the crossing of disciplinary boundaries. These various actors have complexified idealized notions of the Christian left in Canada and across the globe, and invite us to critique and dismantle its colonizing features. Call for Papers The Christian Left Conference invites proposals that intentionally reflect on the emergence of historical "new" actors and voices in the Christian Left. Proposals can be related to (re)tracing the historical, theological and biblical-hermeneutical developments of the Christian Left and its present disciplinary reorientation. Topics related to the interconnection between social movements and actors, the disciplinary cross-fertilization on the areas of interreligious collaboration, the dismantling of traditional canons of theology and biblical hermeneutics, and the reconceptualization of the human experience are especially welcome. This conference is interdisciplinary and welcomes papers from many fields, primarily theological studies, biblical interpretation, preaching and worship, congregational and community ministry, history, ethics and political theology, as well as religious studies, sociology, anthropology, literary studies, philosophy and the humanities broadly understood. Papers engaging with Canadian contexts are particularly encouraged; we also welcome papers from across the world.Proposals are due March 19, 2021 and can be submitted online here: https://bit.ly/cfpchristianleft2021. Watch this video of last year's keynote lecture featuring Joerg Rieger for a sneak preview of what's to come this year! https://www.youtube.com/watch?v=TIcTxxKgb48…Trinity-St Paul's United Church and Centre for Faith, Justice and the ArtsInstitute for Christian StudiesToronto Mennonite Theological CentreEdge: A Network for Ministry DevelopmentThe United Church of CanadaToronto School of TheologyLikeCommentShare
This three-week series will be based on a short video interview with Chris Hedges, author of the book, "Wages of Rebellion: The Moral Imperative to Revolt." Chris Hedges is an American Pulitzer Prize winning author, journalist, anti-capitalist, and Presbyterian minister. His book analyzes revolutions from the 17th century onwards and how they have impacted societies. He argues that the United States is ripe for a revolution and, he states, this is for the best.
Participants are asked to preview the video on YouTube entitled, "Chris Hedges on What it Takes to be a Rebel in Modern Times." The video is 16:35. It will be assumed that participants have viewed the video before the Lenten series.
All three sessions will focus on quotes from Chris Hedges and Scriptural passages. There will be open flow discussion or breakout groups depending on the number of participants. Participants may take part in any number of sessions.
Week One: A Discussion about Capitalism – Sunday, February 28th , 2 pm – 3:30 pm
Week Two: Carrying the Cross – Sunday, March 7th , 2 pm – 3:30 pm
Week Three: Signs of Hope – Sunday, March 21st , 2 pm – 3:30 pm
This series is being planned and facilitated by Joanne Clarke and Joshua Fernandes. For more information, please contact Joanne Clarke at joanne.josito@gmail.com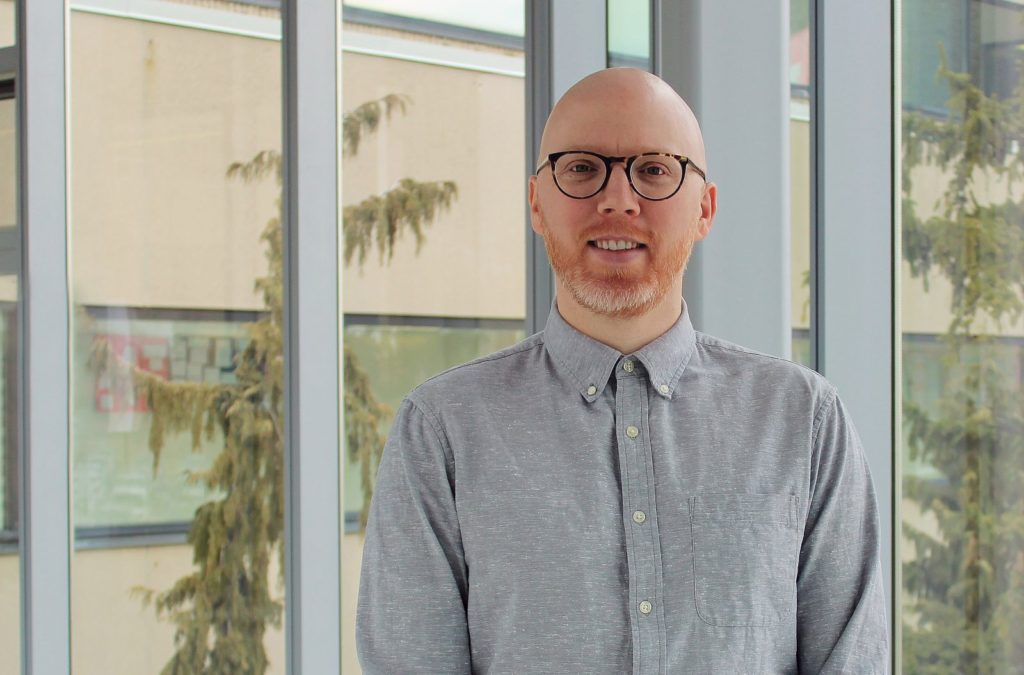 Last week's strike action by professional athletes to protest police violence and anti-Black racism yielded decisive results, with the National Basketball Association (NBA) quickly announcing an agreement to open facilities as voting centres for the American election in November.
Simon Black, a Brock University an expert on labour movements in sport, says that in the past, "Black athletes and their allies have withdrawn their labour to protest injustice, but never on this scale with this impact."
"What we saw last week was an unprecedented strike wave for racial justice across professional sports," says Black, Assistant Professor in the Department of Labour Studies. "Sport will continue to be a site of resistance to racism and social injustice, and students in 'Labour of Sport' will engage with both the history of athlete activism and this new wave of protest, in some cases by virtually meeting athlete activists taking a stand in their sport."
Students in Black's Labour of Sport course this fall will have the opportunity to hear from sporting and labour experts from Canada, the U.S. and Venezuela who are able to visit the class virtually, thanks to its new online format.
The guests are an impressive assembly of athletes and activists who advocate for labour protections in sport including:
Khamica Bingham, a Canadian Olympian and 100-metre national women's champion who has spoken on the issue of anti-Black racism in sport and her experiences as a Black female athlete.
Leslie Smith, a mixed martial artist (MMA) and President of Project Spearhead, the nascent MMA fighters' union known for taking on the most powerful MMA promotion company in the world, the Ultimate Fighting Championship.
Arturo J. Marcano Guevera, a lawyer and author who has written extensively on Major League Baseball's negative impacts in Latin America, including the book Stealing Lives: The Globalization of Baseball and the Tragic Story of Alexis Quiroz, which is one of the course texts.
Black is excited to welcome the guests, who will help students gain perspective on the complex relationships between sport and labour — complexities that Black can personally relate to, as someone whose aspirations of a career in professional soccer helped lead him to his current role as an academic.
After winning the U19 national championship with his Oakville team, he was invited to try out for Watford Football Club before eventually playing NCAA Division 1 soccer at the State University of New York (SUNY) Buffalo.
"At UB, I got involved in the anti-sweatshop and global justice movements," says Black. "When I wasn't playing soccer or studying for my undergrad degree in Sociology, I would be at protests like the big demonstration against the IMF and World Bank in Washington, D.C. in 2000. Sport, workers' rights and social justice have always intersected in my life."
The Labour of Sport class, which is cross-listed between Labour Studies and Sport Management, invites students to take a critical approach to sport as work and elite athletes as workers.
"Students examine the lives of working athletes, both professional and amateur, and how athletes make a living from their sport and how they experience their work," Black says. "We explore everything from health and safety and the perils of injury, to the relationship between sport-governing bodies/teams/leagues/promoters and athlete-workers, to how various forms of oppression, such as racism, sexism and homophobia, shape athletes' experiences of their work."
The Department of Labour Studies aims to offer what Black describes as "a range of practical, unique and thought-provoking courses, some of which are unique in the world."
But the Labour of Sport course seems especially timely this term.
"We haven't seen this kind of disruption to the worldwide sporting calendar since World War II," Black says. "Athletes' unions and player associations have played a crucial role in ensuring that athlete health and safety is a top priority in those leagues that have reopened, but in those sports in which athletes do not have the benefit of unionization and a collective bargaining agreement, where they lack the power of collective voice and action, their livelihoods are in peril — either through cancellations without compensation, lack of government support in the case of Olympic athletes, or being forced to play in unsafe and unhealthy conditions."
——
This article originally appeared here on brocku.ca.
For many artists and workers in the performing arts, the pandemic restrictions on large social gatherings has been difficult. No more live shows and concerts for choirs, theatre companies, orchestras, dance troupes. And lots of artists, and the many behind-the-scene folks who support the performers on stage, wondering what the future holds.
We understand why these measures are in place, and we know that for many in our society the pandemic has been much harder, although I do feel for younger artists who must wonder if they will ever have the chance to work in large groups, in front of a large audience, any time soon.
In the meantime, there has been tremendous creativity in presenting art of all kinds online. Some artists are showing what invention really means! For me personally, I must say I miss the immediacy of live sound. Something about hearing the sound coming directly from its source, with no intermediate steps!
In the first month or so after the lockdown, I spent lots of time listening to music, and playing our old piano at home, which was a lovely luxury. Now, as it becomes clear that the performing arts are going to be very different for the foreseeable future, it has become more challenging, trying to figure out how to plan and prepare for a lot of unknowns.
So it was a real delight to be approached by Laura Menard (many TSP folks will know Laura for her work with Viva Youth Singers) to contribute a short webcast for the Centre for Ethics at the University of Toronto. What is the Centre for Ethics? I must say I had to ask that question when Laura got in touch. Looking at their website (https:// ethics.utoronto.ca/welcome/), I learned that the Centre for Ethics is "an interdisciplinary centre aimed at advancing research and teaching in the field of ethics, broadly defined. The Centre seeks to bring together the theoretical and practical knowledge of diverse scholars, students, public servants and social leaders in order to increase understanding of the ethical dimensions of individual, social, and political life."
The Centre has created very interesting webcasts on a variety of subjects (the ethics of Black Lives Matter, of artificial intelligence, of COVID-19), and they had decided to present a small series called "The Ethics of Songs." The mandate was quite open- ended, and I was intrigued.
I decided I could do something about a song I had just learned from some friends, called "Tiny Perfect Moles," with words by Margaret Atwood from her novel The Year of the Flood. In that novel, there is a religious group called God's Gardeners who gather to worship and to sing hymns, and Atwood wrote words for their hymns. There is no sheet music in the novel, but the lyrics fit beautifully to a number of hymn-tunes, and my good friend and colleague Alan Gasser had set "Tiny Perfect Moles" to an old shape-note tune. The words speak of earthworms, and nematodes, and moles, all of whom help maintain the health of soil, but who work unseen by human sight. This image made me think of the great feminist, activist and scientist Ursula Franklin, who talked of the "earthworm theory of civic engagement," and I decided any chance to explore more of Ursula Franklin's thought and speeches was not to be missed. The result is a short fifteen-minute webcast which will be first aired on September 2, and then available for viewing. The Ethics of Songs is a whole series of songs and presenters that some folks might find interesting. Thanks, Laura, for the invitation – the project was a welcome relief from more anxiety-producing work at the moment!
David Fallis
Catch David's episode starting on September 2!
Here is information about the whole series: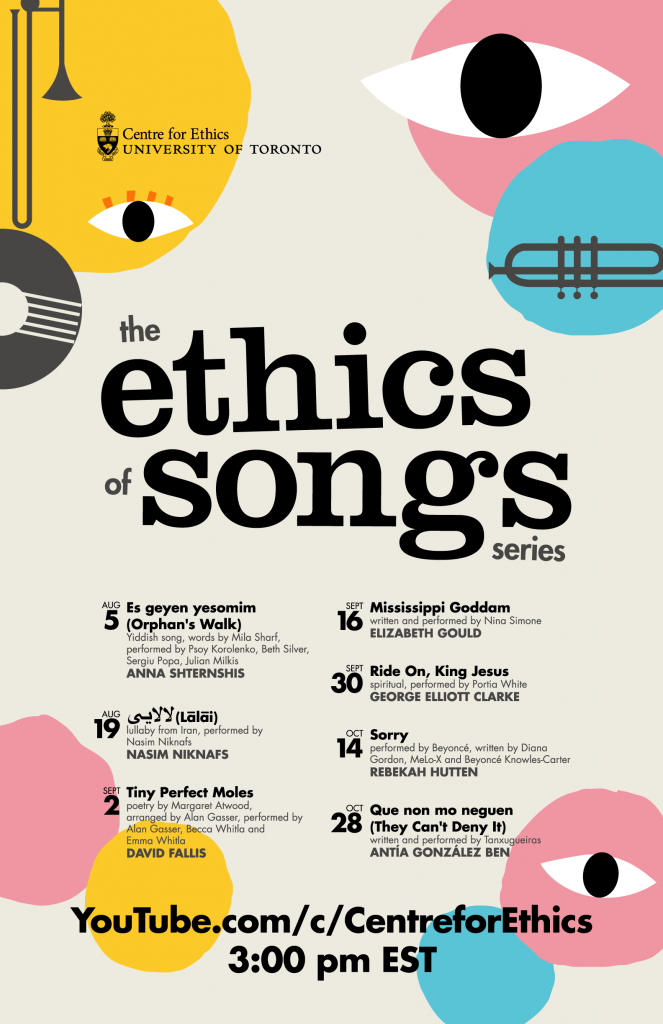 Hours of Operation
Front Office
Monday - Saturday

9:00 AM - 11:00 PM

Sunday

9:00 AM - 10:00 PM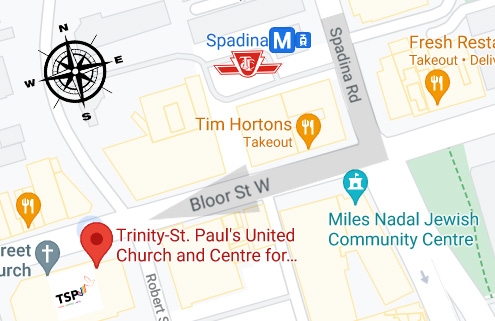 How to Get Here - Trinity-St.Paul's is accessible by public transit. The nearest TTC station is Spadina Station, located just north of the intersection of Spadina and Bloor. For a full accessibility exit from the subway station, use the Spadina Street exit. Head south to Bloor street, then turn right and head west to the next intersection at Robert Street. TSP is located at the southwest corner of Bloor Street and Robert Street. For accessible entry use the main entrance on Bloor Street on the north side of the building.
Accessibility - TSP is fully accessible on the main floor, including access to the main door, Sanctuary (Jeanne Lamon Hall), gymnasium, Circle Room, Memorial Room, Chapel, Studio and washroom. Trinity-St. Paul's also owns a wheelchair for use within the building. Staff are available to assist you when needed; please just inform us and we are happy to help.
Service Animals and Support Persons - Service animals are welcome in all parts of our premises that are open to the public. Special seating is also available in the Sanctuary (Jeanne Lamon Hall) for people with disabilities arriving with a service animal or a personal support worker.
Parking - Paid parking, including accessible parking, is available across the street on Robert Street at the Green P lot on the south side of the Metro grocery store.
Training for Staff - TSP provides training to all staff as well as volunteers, including an overview of the Accessibility for Ontarians with Disabilities Act, 2005 and the requirements of the customer service standard's plan.