Worship Service
Sunday Service: Worship with us every Sunday at 10:30 a.m in person or online on Zoom, followed by Coffee Hour on Zoom only. The service will also be available online to be watched later on for those who are not able to attend at 10:30 AM.
Zoom Service Link:
https://zoom.us/j/98243487606?pwd=WmxDbTR2a3JrMk4zT05lQzkwb3B6Zz09
Meeting ID: 982 4348 7606
Passcode: 105035
If you have any questions, please email Pradeep at pgade@trinitystpauls.ca
Subscribe to the TSPList mailing list for the link and password (or ask someone who knows).
COVID-19 Protocols: everyone attending worship in-person must sign in upon arrival for contact tracing. You must sanitize your hands and wear a mask at all times while inside, and maintain 2 meters social distance from others not in your immediate household. Vaccination is mandatory; exemptions apply. Singing unfortunately will not be permitted, but we encourage you to hum along 🙂 Coffee hour will be available on Zoom afterwards.
Message from TSP Board
July 27, 2021
Dear TSP community, neighbours, and friends, I hope this note finds you well, and having a restful and rejuvenating summer. With Ontario well into Step Three of its reopening plan and September just around the corner, I wanted to provide an update on our plans for Sunday services at TSP. During August, and on September 5th, we will continue to worship on Zoom. As we have done for decades, we will welcome our friends from Bloor Street to worship with us for August. September 12th will be a Welcome Back Sunday like no other. I'm excited to say that we intend to resume in-person services that Sunday! What should I expect when I come to worship? When you arrive, you will be asked to provide your contact information for contact tracing purposes. Seating in the sanctuary will not be pre-assigned. Rather, you will find clusters of seats marked as available. One, two, three, and four seats will be clustered together. Please find a cluster of seats that matches the size of your household/bubble. If you are able, please try to sit in the balcony to allow more room on the main floor for those with mobility issues. Please also remember that clusters have been spaced apart to maintain social distancing. Your mask must be worn at all times during the service. Although our wonderful soloists will provide musical leadership, there will be no congregational singing for the foreseeable future. If you wish, soft humming under your mask will be permitted. After the service, please exit the building. Coffee Hour will remain online, at 2pm Sunday afternoons. What if I am unable to come to worship or don't feel ready? I'm thrilled to say that a long-standing goal of ours is being achieved.We are in the process of purchasing the equipment necessary to be able to live-stream our services online. I anticipate live-streaming will begin in the early fall. I'm truly looking forward to seeing you on September 12th. Please don't hesitate to email me at chair@trinitystpauls.ca if you have any questions. Blessings, Colin Phillips Chair of the Church Board
In This Time of COVID-19, TSP's Ministry Continues
Rev. Dr. Cheri DiNovo, C.M.
Minister
1971
Only woman to sign We Demand, first gay rights demo in Canada. Marched in Toronto's first Pride.
2001
Performed the first legalized same-sex marriage in Canada
2006
Elected MPP - passed most private bills in Ontario's history and most LGBTQ bills in Canadian history
2019
Appointed to the Order of Canada
2020
Minister at Trinity-St. Paul's United Church and Centre for Faith, Justice and the Arts
Climate Justice Resources
Trinity St. Paul's United Church's journey of divestment of our congregational funds from fossil fuels, and subsequent reinvestment in Alternative Energy
The Latest
What's new in the life of the church
Hours of Operation
Front Office
Monday - Saturday

9:00 AM - 11:00 PM

Sunday

9:00 AM - 10:00 PM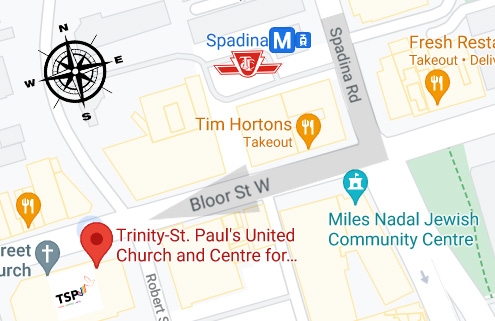 How to Get Here - Trinity-St.Paul's is accessible by public transit. The nearest TTC station is Spadina Station, located just north of the intersection of Spadina and Bloor. For a full accessibility exit from the subway station, use the Spadina Street exit. Head south to Bloor street, then turn right and head west to the next intersection at Robert Street. TSP is located at the southwest corner of Bloor Street and Robert Street. For accessible entry use the main entrance on Bloor Street on the north side of the building.
Accessibility - TSP is fully accessible on the main floor, including access to the main door, Sanctuary (Jeanne Lamon Hall), gymnasium, Circle Room, Memorial Room, Chapel, Studio and washroom. Trinity-St. Paul's also owns a wheelchair for use within the building. Staff are available to assist you when needed; please just inform us and we are happy to help.
Service Animals and Support Persons - Service animals are welcome in all parts of our premises that are open to the public. Special seating is also available in the Sanctuary (Jeanne Lamon Hall) for people with disabilities arriving with a service animal or a personal support worker.
Parking - Paid parking, including accessible parking, is available across the street on Robert Street at the Green P lot on the south side of the Metro grocery store.
Training for Staff - TSP provides training to all staff as well as volunteers, including an overview of the Accessibility for Ontarians with Disabilities Act, 2005 and the requirements of the customer service standard's plan.