Welcome Back!
May 12, 2022
Dear TSP community, neighbours, and friends,
We are very happy that Trinity-St.Paul's has been reopened for public bookings of our facilities and spaces since February 7, 2022. Masks are still mandatory inside the building, and we ask everyone to continue to maintain social distancing. While the government has started to ease some restrictions, TSP is also allowed to maintain its own safety protocols and will do so according to the schedule below. In-person worship has also resumed. We are also now allowing groups to bring snacks into their booked rooms (please not in the common areas).
Here is our COVID-19 reopening schedule:
May 1 - Masks still required indoors for all activities.
Concerts - 100% of indoor capacity allowed in Jeanne Lamon Hall - proof of vaccination mandatory for 100% capacity events in the concert hall.
Other room capacities to increase to 50% of their normal capacity.
June 1 - Masks still required in all common areas, but can be removed for activities inside rooms only. All other COVID-19 protocols will cease if the following conditions are met:
- Ontario COVID-19 hospitalization numbers drop below 300 and sociological parameters indicate it is safe to do so.
July 1 - Masks still appreciated being worn indoors.
The front door will remain locked for now - you must still be buzzed in by reception.
Please see our full COVID-19 Safety Plan here: https://bit.ly/39jc9u0
While we are optimistic that things are improving, we acknowledge that we are still in the tail end of the pandemic with health consequences for some and we are taking a safety-forward and cautious approach to reopening. We appreciate all of your patience and continued support, and we hope you have an amazing spring!
Kind regards,
Aaron Dawson, General Manager
In This Time of COVID-19, TSP's Ministry Continues
Rev. Dr. Cheri DiNovo, C.M.
Minister
1971
Only woman to sign We Demand, first gay rights demo in Canada. Marched in Toronto's first Pride.
2001
Performed the first legalized same-sex marriage in Canada
2006
Elected MPP - passed most private bills in Ontario's history and most LGBTQ bills in Canadian history
2019
Appointed to the Order of Canada
2020
Minister at Trinity-St. Paul's United Church and Centre for Faith, Justice and the Arts
Climate Justice Resources
Trinity St. Paul's United Church's journey of divestment of our congregational funds from fossil fuels, and subsequent reinvestment in Alternative Energy
The Latest
What's new in the life of the church
Hours of Operation
Front Office
Monday - Saturday

9:00 AM - 11:00 PM

Sunday

9:00 AM - 10:00 PM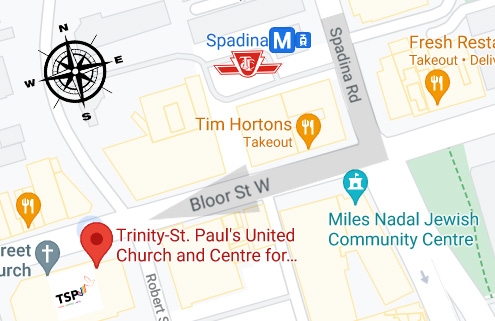 How to Get Here - Trinity-St.Paul's is accessible by public transit. The nearest TTC station is Spadina Station, located just north of the intersection of Spadina and Bloor. For a full accessibility exit from the subway station, use the Spadina Street exit. Head south to Bloor street, then turn right and head west to the next intersection at Robert Street. TSP is located at the southwest corner of Bloor Street and Robert Street. For accessible entry use the main entrance on Bloor Street on the north side of the building.
Accessibility - TSP is fully accessible on the main floor, including access to the main door, Sanctuary (Jeanne Lamon Hall), gymnasium, Circle Room, Memorial Room, Chapel, Studio and washroom. Trinity-St. Paul's also owns a wheelchair for use within the building. Staff are available to assist you when needed; please just inform us and we are happy to help.
Service Animals and Support Persons - Service animals are welcome in all parts of our premises that are open to the public. Special seating is also available in the Sanctuary (Jeanne Lamon Hall) for people with disabilities arriving with a service animal or a personal support worker.
Parking - Paid parking, including accessible parking, is available across the street on Robert Street at the Green P lot on the south side of the Metro grocery store.
Training for Staff - TSP provides training to all staff as well as volunteers, including an overview of the Accessibility for Ontarians with Disabilities Act, 2005 and the requirements of the customer service standard's plan.

We acknowledge the financial support of the Government of Canada.