Message from TSP Board
October 1, 2020
Dear neighbours and friends,
In June, the Church Board of Trinity-St. Paul's decided that we would resume in-person Sunday worship on September 13th, provided that Toronto had been in Stage Three of the Government of Ontario's framework for reopening the province for three consecutive weeks. Staff and volunteer leaders at TSP have been watching Toronto's daily COVID-19 case counts and other developments closely for the past weeks. We have been particularly conscious this week that the Ontario Hospital Association has urged all houses of worship to suspend in-person worship, and Toronto Medical Officer of Health, Dr. Eileen de Villa's, urging that we limit our contacts outside of our households as much as possible. It is with deep regret that I am writing to let you know that the Church Board held an emergency vote on Tuesday and has decided to suspend in-person worship. It is clear to the Board that it is no longer safe to gather in-person.
We will continue to live stream Sunday worship on Facebook this week. However, we are excited to be transitioning to worshipping on Zoom in the coming weeks. Using Zoom will help us maintain the sense of community that we get when we gather in person. The recordings of our Zoom worship will still be posted on our Facebook and Youtube pages. However, I would like to personally invite you to join us live each Sunday morning at 10:30. Please e-mail
pgade@trinitystpauls.ca
if you would like to join our e-mail list and get the weekly Zoom invitation.
It is sad to be shutting our doors for Sunday worship again, but please know that we are indeed open and ready to serve our community. If there is anything you need, please do not hesitate to contact me at
chair@trinitystpauls.ca
.
Wishing you health and peace,
Colin Phillips
Chair of the Church Board
In This Time of COVID-19, TSP's Ministry Continues
Rev. Dr. Cheri DiNovo, C.M.
Minister
1971
Only woman to sign We Demand, first gay rights demo in Canada. Marched in Toronto's first Pride.
2001
Performed the first legalized same-sex marriage in Canada
2006
Elected MPP - passed most private bills in Ontario's history and most LGBTQ bills in Canadian history
2019
Appointed to the Order of Canada
2020
Minister at Trinity-St. Paul's United Church and Centre for Faith, Justice and the Arts
Climate Justice Resources
Trinity St. Paul's United Church's journey of divestment of our congregational funds from fossil fuels, and subsequent reinvestment in Alternative Energy
Hours of Operation
Front Office
Monday - Saturday

9:00 AM - 11:00 PM

Sunday

9:00 AM - 10:00 PM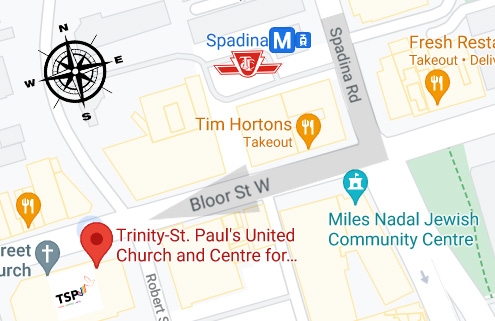 How to Get Here - Trinity-St.Paul's is accessible by public transit. The nearest TTC station is Spadina Station, located just north of the intersection of Spadina and Bloor. For a full accessibility exit from the subway station, use the Spadina Street exit. Head south to Bloor street, then turn right and head west to the next intersection at Robert Street. TSP is located at the southwest corner of Bloor Street and Robert Street. For accessible entry use the main entrance on Bloor Street on the north side of the building.
Accessibility - TSP is fully accessible on the main floor, including access to the main door, Sanctuary (Jeanne Lamon Hall), gymnasium, Circle Room, Memorial Room, Chapel, Studio and washroom. Trinity-St. Paul's also owns a wheelchair for use within the building. Staff are available to assist you when needed; please just inform us and we are happy to help.
Service Animals and Support Persons - Service animals are welcome in all parts of our premises that are open to the public. Special seating is also available in the Sanctuary (Jeanne Lamon Hall) for people with disabilities arriving with a service animal or a personal support worker.
Parking - Paid parking, including accessible parking, is available across the street on Robert Street at the Green P lot on the south side of the Metro grocery store.
Training for Staff - TSP provides training to all staff as well as volunteers, including an overview of the Accessibility for Ontarians with Disabilities Act, 2005 and the requirements of the customer service standard's plan.