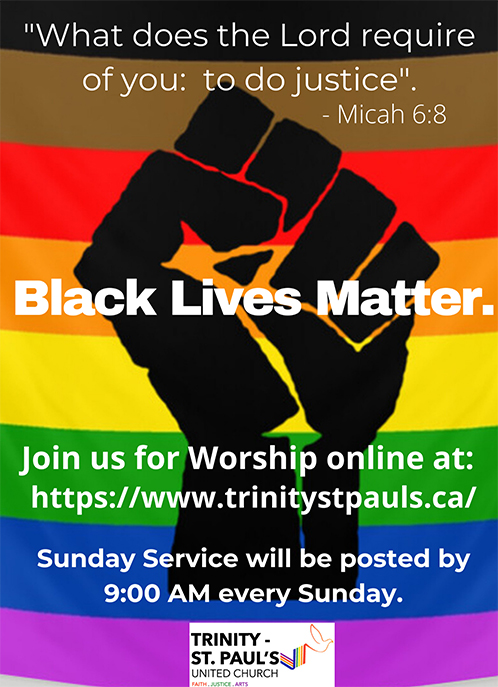 Trinity-St. Paul's United Church
Statement of Solidarity and Commitment to End White Supremacy and Anti-Black Racism
As they have done for over four centuries, Black people are demanding an end to murderous beliefs and actions that are rooted in White supremacy and anti-Black racism. Trinity-St. Paul's United Church is a Christian community that understands White supremacy and anti-Black racism as ideologies that are sins against God, and antithetical to the teachings of Jesus. These ideologies are deeply entrenched in the personal and collective attitudes, actions, and systems of White people. As a predominantly White congregation, we confess that we, individually and collectively, continue to commit these sins. Now is the time for White people to do the work of naming, atoning for, and dismantling their White privilege. Our leadership is currently discerning the best way for our congregation to do this work, centring the voices, hopes, and needs of our Black members. Regardless of the work that lies ahead of us, we unequivocally declare the holy, God-given Truth that
Black Lives Matter
.
Colin Phillips Chair of the Church Board
Worship with us online! Every Sunday at 10:30 a.m.
Join us for virtual coffee afterwards at 11:00 a.m. via Zoom!
Subscribe to the TSPList mailing list for the link and password (or ask someone who knows).
Listen to the newest episode of The Radical Reverend!
Tune in to The Radical Reverend on CIUT 89.5 FM on Mondays from 4:00–5:00 p.m.
Subscribe anywhere you get your podcasts!
COVID-19 Closure Information
After much reflection and discussion with all of our residents and partners at Trinity-St. Paul's Centre, we have made the decision to close to the public until further notice. This decision was not made lightly but as a centre that sees 10,000 members of the public a month, we must be proactive in encouraging social distancing at this time. All public events including services, meetings, concerts, and gatherings will be cancelled. We encourage you to support all of our partners during this time, many of whom are independent small business people and rely on your patronage for their continued well-being.
Reverend Cheri DiNovo states that:
"The primary call upon people of faith is to love one another and love our world. It is in that spirit that we at Trinity St Paul's United Church will be hosting our services online after Monday, March 16th. We need to model care for others. Please feel free to contact Rev. Dr. Cheri DiNovo, C.M. for any reason. Pastoral care will continue as always."
In This Time of COVID-19, TSP's Ministry Continues
Message from Colin Phillips, Chair of the TSP Church Board:
In the first verse of her hymn "Will Your Anchor Hold" Priscilla Owens asks 'Will your anchor drift, or firm remain?' TSP certainly is an anchor in the lives of many; a concrete expression of a faith in a loving and just God, a workplace with a decent wage, a place to make art and social change. Our ability to be that anchor depends largely on our ability to be a financially sustainable congregation that responds to the needs of our staff and partners.
The quietness of the building does not mean we stop being a community that worships God, seeks justice and cares for one another.
Reverend Dr. Cheri DiNovo
Minister
1971
only woman to sign We Demand, first gay rights demo
2001
performed first legalized same-sex marriage in Canada
2006
elected MPP - passed most private bills in Ontario's history and most LGBTQ bills in Canadian history
Present
minister at Trinity-St. Paul's United Church and Centre for Faith, Justice and the Arts
Climate Justice Resources
Trinity St. Paul's United Church's journey of divestment of our congregational funds from fossil fuels, and subsequent reinvestment in Alternative Energy
Hours of Operation
Front Office
Monday - Saturday

9:00 AM - 11:00 PM

Sunday

9:00 AM - 10:00 PM